Chloé kinderschoenen
-20%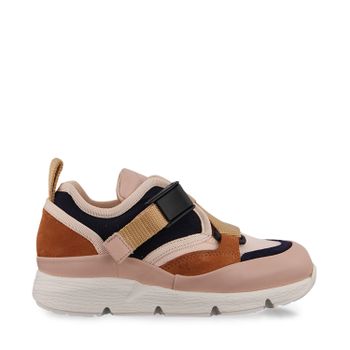 Chloe
Meisjes kindersneakers
280
,-
224

,-
'Kinderschoenen Chloe voor stijlvolle kids', dat zou als vetgedrukte kop boven een advertentie van het Franse merk Chloe kunnen staan, want met de chique Chloe laarsjes voor kinderen en de hippe kindersneakers van dit exclusieve modelabel haal je iets bijzonders in huis voor je kleine fashionista's. Modebewuste kids weten heel goed wat ze wel en niet willen dragen en dat hebben de ontwerpers bij de kinderafdeling van Chloe helemaal begrepen! De kwaliteit van de gebruikte materialen en de luxueuze uitstraling van Chloe kinderschoenen doen op geen enkele manier onder voor de modelijn die de schoenenontwerpers van het merk voor volwassenen op de markt brengen.
Het merk Chloe werd in 1952 opgericht door de Frans-Egyptische modeontwerpster Gabrielle Aghion. Zij vond het belangrijk om haute couture niet langer alleen voor de elite beschikbaar te maken maar ook voor een groter publiek. Ze wist dit te bereiken door in enkele toonaangevende Parijse modewinkels exclusieve, kleine confectielijnen van haar merk te gaan verkopen. Aghion wordt binnen de modewereld beschouwd als de uitvindster van deze prêt-à-porter of 'ready to wear fashion' die de meeste exclusieve modemerken tegenwoordig in hun collectie hebben. Chloe wist door de jaren heen publicitair te scoren met diverse 'A-list celebrities' die met kleding en schoenen van het merk in de media verschenen, zoals Madonna, Cameron Diaz en Emma Stone.
Chloe schoenen voor kids vind je natuurlijk in het assortiment van Coccinelle. Kijk – samen met je kids – snel in ons aanbod van begerenswaardige Chloe kindersneakers en haal ze in huis!
-20%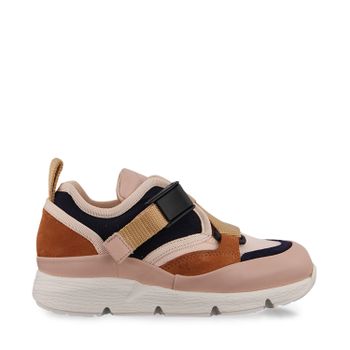 Chloe

Meisjes kindersneakers
280
,-
224

,-